| | |
| --- | --- |
| | 28. July 2011 – 16:49 by Asociacion Ciudades Kyosei / Pedro Prieto-Martin |
"The e-(R)evolution will not be funded. An interdisciplinary and critical analysis of the developments and troubles of EU-funded eParticipation" is the title of a paper that our association recently wrote as part of our research and knowledge dissemination efforts. The article is meant to be properly published soon, but some bureaucratic issues have delayed its release more than we can wait.
Because this paper needs to be read and, more important, discussed while its analyses are still current.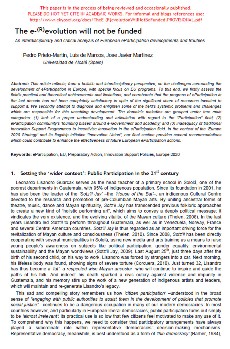 Thus, we have decided to make it provisionally available through PeP-NET. To start such a conversation, what better place than PeP-NET, the Pan European eParticipation network?


We have spent many hundreds of hours researching and writing the paper, as we struggled to make sense of the developments and "under-developments" of eParticipation in the last ten years.
Our appraisal is based on an extensive and interdisciplinary analysis of distinct relevant sources, which included the most recent reports, articles and literature reviews dealing with eParticipation research, practice and theory, as well as projects' deliverables and evaluations, related databases, and our direct examination of eParticipation systems.
We had to resort to a very varied bunch of disciplines (from history and medicine to Mayan performing arts; seriously!!

) to be able to achieve a comprehensive understanding of the field's challenges… and to make a compelling exposition of them.
The paper ended up being "quite controversial", as our assessment of eParticipation came to suggest that some of the problems that have hampered its progress have a systemic, overarching character: that kind of 'elephant in the living room'-issues whose very existence tends to be denied because of their complexity or the embarrassment they cause and, as a result, cannot normally be acknowledged or discussed, let alone get properly sorted out.
Examples of the "embarrassing questions" the paper poses are:
How can it be that after 10 years… all relevant 'agendas' of eParticipation research are still reported as underdeveloped?
And how can it be that even the most basic questions –for example: the relation of Participation and eParticipation, or the understanding of the dual nature of eParticipaton as something that can be driven by authorities or by citizens themselves– remain unsolved?
More than 187 millions of Euros were invested in the last ten years to promote experimentation in the field, so… where are the results? Where are the breakthroughs and the research milestones? Can we feel satisfied with just some "vague confirmations" of ideas that 10 years ago could already have been easily guessed?
Through the paper, we have done our best to constructively diagnose eParticipation and to propose some treatments for the field's maladies. But our perspective and understanding are necessarily limited: the real "treatment" for those problems would require a reflection process that involves the whole eParticipation community.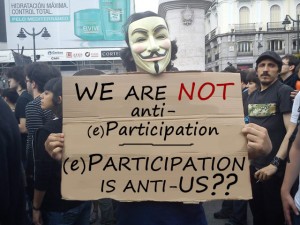 We see this paper as an urgent "call for self-reflection" and consider it a "MUST READ" for anyone involved in European eParticipation: from the officials working at EC's Directorate for Information society and Media, to the researchers, practitioners, NGOs, public workers, citizen associations… and even any interested European citizen.
Therefore, we would like to encourage all our PeP-NET friends and in general all people with interest in eParticipation… to have a look at the paper during this nice summer weekend.


Anyone who feels "touched" by any of the paper's claims and argumentations… should speak up and comment to this post. It doesn't matter if it is to support, extend or complement our asseverations, or to oppose, challenge or further qualify them… please, share your views.
PeP-NET was meant to be a HUB for the conversations around eParticipation. So… let's discuss. It is important that the issues we showed –be them real or imagined– are talked about, and possibly acted upon.
The environment where we operate is moving. Moving faster and faster. And in the context of the 'Europe 2020 Strategy' and its flagship initiative "Innovation Union", which aims to renew EU's "Research and Innovation Funding Programmes", the most important question we need to answer is: "What do we do now??"
For sure, we could keep pretending that there is NO elephant in the living room. Stay in our "academic" Ivory Tower, and just continue doing as we did so far… while we wait for the "barbarians of eParticipation" to arrive, change the democratic landscape by really integrating ICT in governance… and make fools of all us. PeP-NET subscribers included.

But in our association we want to believe that we, the European eParticipation Community, could do much better than that.
So… no more to say!! Thank you very much for your attention. We hope some of you enjoy reading of our paper and some exchange of ideas can happen afterwards.
—–   ADDITION: A  CONCEPTUAL  MAP  SUMMARISING  PAPER'S  KEY  FINDINGS   —–
Several people asked for a "summary" version of the paper. Here you have a JPG image (2,5 Mbytes) displaying a Conceptual Map that summarises the paper's key findings.
I recommend you to save the file first, and then open it with an image editor (like Office Picture Manager) to watch it. It'll be more easy for you to zoom in and out in the different parts of the image.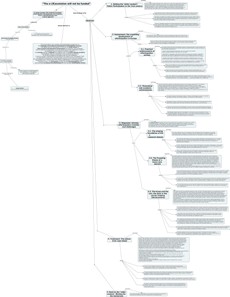 Tags: democracy, eParticipation, EU, Europe, Europe 2020, European Commission, inenglish, Innovation, paper, PEP-NET, reflection