| | |
| --- | --- |
| | 21. April 2010 – 11:37 by Bengt Feil (TuTech Innovation GmbH) |
When we talk about transparency of government data we mostly mean data produced be government (in parliament etc.) which should be public and usable by NGOs and citizens alike. But there is another aspect of transparency which is discussed less often:  How are governments using laws and power to request private data from companies and especially web-based companies like search engines and social networks?
Google published all requests for data and removal of content by governments in the second half 2009 on a website . The screenshot below shows the map on that site zoomed to Europe but there is data available for many other countries in the world.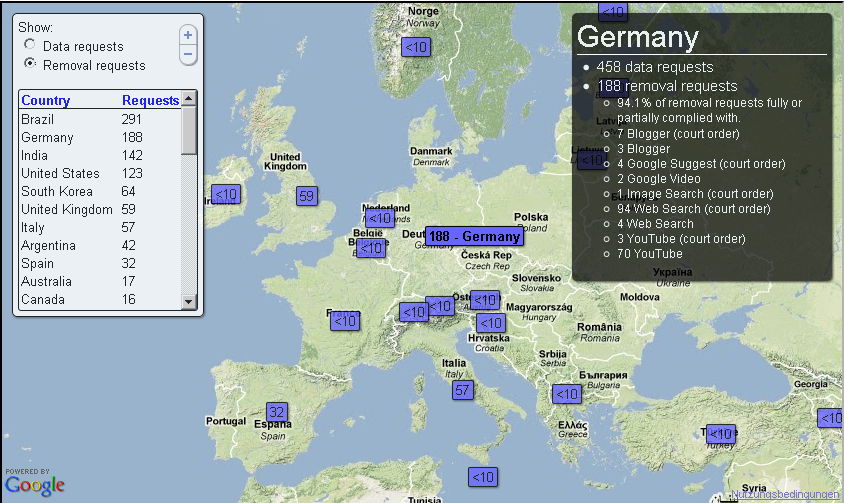 Click to enlarge
Some example numbers: In Germany there where 458 requests for private data and 188 request for removal of content in the second half of 2009. Ten of the removal requests where aimed that the Blogger service and 70 at Youtube. Interestingly Google also publishes the rate of compliance with these requests – which in this case is 94.1%. In other countries there were much more requests: Brazil leads the chart with 3663. For China however no data is available – or as Google says: "Chinese officials consider censorship demands as state secrets, so we cannot disclose that information at this time."
This shows that there are other sides to government transparency than one might think about immediately. I hope other companies also publish this kind of data in such an accessible way so that we can hold our governments to task for extensive use of laws and power.
Tags: Google, government, inenglish, transparency