| | |
| --- | --- |
| | 3. June 2009 – 13:33 by Hans Hagedorn |
The European Parliament will proclaim the United States of Europe? EU will grant basic financial security for all its citizens? After so many rejected referenda and strong suspicions against European politics, these ideas sound out of touch. However, they are just two examples from 16 solutions worked out by 361 citizens – randomly chosen in Germany – during a citizens' dialogue about the EUs future.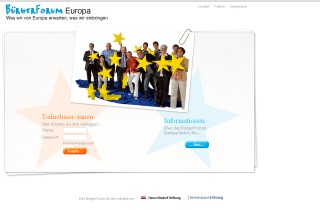 Special about these ideas is that they were not gathered in a quick opinion poll. Instead they are the result of a focused discussion, combining offline- and online debate, in which citizens tested and qualified their original opinions. What are the abilities of such an online dialogue and where are its limitations? European Elections will be held in June 2009. But voter's attention started quite low: In February only 30% of the European citizens were sure that they want to cast their votes for a new European Parliament. 62% did not even know that the elections will be held. 361 citizens living in Germany proved themselves to be very interested in the European Elections and in the future of the EU. From January to April 2009 they participated in the BürgerForum Europa and discussed challenges and solutions for Europe.
German chancellor Merkel: "You are involved in something very exciting."
The BürgerForum Europa has been initiated by the German Bertelsmann Foundation and  Heinz Nixdorf Foundation. The organizers developed a combination of live events and online discussion. In February 2009 all participants met in Berlin to choose the topics for their debate. In the following two month of intense online debate they completed an agenda consisting of 16 solutions. In April 2009 the participants met again, this time in the old German parliament building in Bonn, and discussed their demands with five candidates for the European Parliament. This project-design was chosen to show new options for citizen participation. Instead of asking experts only, the organizers wanted to learn about citizens' opinions, ideas and impulses, said Guther Thielen, chairman of the Bertelsmann Foundation.
The 361 participants, chosen at random, came from very diverse socio-cultural backgrounds and cover a wide range of professions, age, education – and opinions as well. The live event in Berlin got attention from high-ranking politicians: German chancellor Angela Merkel visited the participants and discussed Germany's role in the European Union. "You are involved in something very exciting," said Ms. Merkel. "I really welcome this initiative. We want the citizens to know something about the European Union and I think it's very favourable that you do not only read about Europe, but work on your own ideas as well."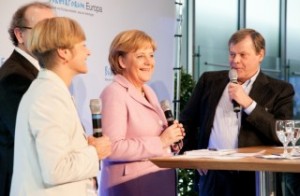 German chancellor Angela Merkel and participants of the BügerForum Europa
(Foto by Bernhard Link, Berlin)
An online platform for intense and focused debate
In Berlin, the citizens discussed first approaches for their agenda, framed challenges and thought about possible solutions. Challenges and solutions were transmitted to an online platform, where the participants completed their agenda in ten weeks of intense debate. They worked together in eight committees: constitution, institutions, European identity, social policy, resources and European law were some of the topics in question.
The online platform was planned and moderated by Zebralog. It is based on the software "discoursemachine 5" by Binary Objects. Contrary to classic online forums, the BürgerForum consists of special workflows which enable hundreds of people to work together efficiently. "Citizen Editors" assure the balance between contradictory opinions, votes and rankings condense comments to a concrete outcome, and moderators foster a balanced participation and a transparent process. These workflows base on Zebralogs long-time experience with online-dialogues.
Participation was unusually high compared to similar projects: 96% of the members wrote comments, 80% to 90% participated in the online votes and rankings. All in all about 10.000 comments were gathered during the online discussion, of which 7.355 regarded to the debate about the solutions.
Election Appeal
The online discussion is followed by a phase for more classical PR: organizers and participants share the task to promote the citizens' agenda in the general public and to inform political executives. Amongst other things the online platform has been redesigned to enable a deliberation between thousands of people – with a minimum of human moderation. The original participants themselves guide through the online tool, so that users are welcomed by real people from the most diverse backgrounds. This brings an individual appeal to the discussion and adds authenticity to the process. Part of the online tool is also an election appeal.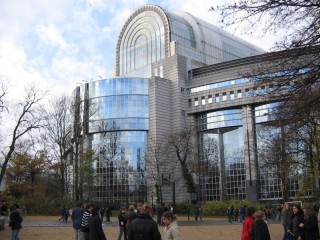 The European Parliament (wikimedia.org)
This citizen dialogue was already the second of its kind – a pilot project was carried out in 2008 with the "BürgerForum Soziale Marktwirtschaft", a citizens' dialogue about social market economy. The pilot projects methodical conclusions have been an important foundation for the recent project.
Accomplishments and limitations
Looking at the experience from a broader perspective, we can consider the following accomplishments and limitations:
Accomplishments:
Political Activation!
The participants form their thoughts about the topics at hand in a very intense way. The effects probably exceed the results of other forms of political opinion building (e.g. through media consumption, discussions with the own social circle, taking part in polls etc).
Balanced Participation!
The online platform enables citizens from very diverse backgrounds to work together in a way that neither overstrains nor underchallenges anybody. For this, it is necessary to design asynchronous workflows: Slow thinkers get the time they need, while fast thinkers can skip things as they please. Having said this, the process also has to be synchronous: Mutual decisions have to be made and result must be achieved within 10 weeks. All this can be done with participation quotas of 90% – however professional online-moderation is vital.
Qualified Results! The platform allows hundreds of people to work together on normative texts and to achieve structural qualified results, similar to classic party programmes. Related web 2.0 tools are mostly restricted to descriptive texts (e.g. Wikipedia) in which false and true can be identified without doubt. The BürgerForums workflows proved to be more efficient to work on texts with valuations.
Current Limitations:
Connection With Politics and Public?
The discussion process included high ranking politicians through all phases: The opening event in Berlin was visited by chancellor Merkel, MEPs took part in the online discussion, in Bonn the citizens discussed their ideas with candidates for the European Parliament. Still it is not clear which effects the participation process will have on political executives. Also the dispersion of the elaborated results in the general public does not equal the effects of a convincing PR campaign.

An important reason for that might be a tradition of the political daily routine: just a few politicians can imagine getting useful and valuable incitements through citizen participation. Same accounts for journalists and their audience. Considering the custom of producing results of citizen participation as "final results" or similar monolithic formats, these findings are not really astonishing.

For future projects it will be necessary to think about the delivery-formats right from the start. The results should be communicated in a way that is interesting and exploitable for the receiver.

Mass-Participation?
While on the Internet, people count in thousands only. Projects that focus on "only" 350 participants might not be taken seriously enough. Even that these 350 participants went through a complex process of opinion forming might not really count. Will similar projects also work with hundred thousands of users? Experience gathered with the recent BürgerForum suggests that it might be possible – but that's still a way to go.
Excellent Results?
According to the concept of 'collective intelligence' the great achievements of a society depend largely on its ability to recombine the small achievements of individuals. As we say "The whole is more than the sum of its parts." If true, this principle applies since the beginning of mankind and is nothing new. And every governance system is nothing else than a current method of combining and integrating smaller achievments. The additional interconnetivity through the means of the Internet offers – in a theoretical view – a large increase in collective intelligence. But this is just the theory and we need to solve the methodical problem: How can thousands of people work together on one question in a constructive way? Judging from the promising small experiences with the BürgerForum Europa, further development of the methods can be expected. This will help us to produce even more than just "good" collective results.
by Hans Hagedorn and Simone Gerdesmeier, zebralog.com
Tags: e-participation, European Union, inenglish