| | |
| --- | --- |
| | 29. December 2008 – 16:37 by Rolf Luehrs |
For those of you interested in the intersection of politics and Internet 2009 will be a good year – probably.
At least the political agenda looks promising. First of all we will see whether Barack Obama manages to integrate his huge online supporter community somehow in his political work. However this will turn out, he has already changed the relation between politicians, voters and the way elections will be won. As Dan Jellinek put it:
It really does feel like a breakthrough for those of us who have watched internet campaigning since it began. Because the amount of money raised online, combined with the huge volume of genuine discussion, campaigning and messaging that took place using new technologies, was on a scale so much larger than anything we have seen before that it seems undeniable that the era of internet campaigning has now definitely – and permanently arrived.
There is, however, a difference between campaigning and participation. And I doubt that Europe will catch up with what Obama did – although there will be some opportunities to demonstrate that the involvement of voters and citizens is not limited to the U.S.
First to mention are the 2009 EU Parliamentary Elections. There are already some interesting projects running to fight political apathy and to let the European citizens have their say, like e.g. the Eurpean Citizens' Consultations. Another project targeting especially at young voters is the blog competition Think about it:
A dynamic community of bloggers, journalists and journalism students, a forum alive with debate and discussion, a creative portal to inspire youth involvement with the 2009 Parliamentary Elections, brought to you by the European Journalism Centre (EJC).
The goal is to get Europeans to THINK ABOUT IT and to express their views on Europe through an online blogging competition. The invited bloggers will cover, report, critique and debate on campaign issues and candidates. EJC editors will give feedback on the journalistic standards of the blog posts.
Opportunities to use the Internet for citizens' involvement will not only show up on the European level but also on the national or regional level, i.e. in Germany. In the "Super Wahljahr 2009" eight Local Government Elections (Kommunalwahlen), five Regional Elections (Landtagswahlen), the National Parliamentary Elections (Bundestagswahl) and the election of Germany's Federal President will take place.
One politician already showed his ability and willingness to learn from Barack Obama: Thorsten Schäfer-Gümbel! Never heard of him? Well, this will change… Mr. Schäfer-Gümpel is the social democrat's premier candidate for the Landtagswahl in Hesse. He started with a considerable handicap: Nobody knew him before his candidature and he had only two months to get known and loved by the voters. The reason he got in this miserable situation was that Andrea Ypsilanti, the boss of the regional Social Democratic Party, tried to inaugurate herself as premier with the backing of the left party – something she said she never would do before the election. After the election has produced a tie between the two main parties, she changed her mind – with fatal consequences ("A mess in Hesse", as The Economist titled). On the eve of her coronation four deputies of the SPD refused to vote for her, so that new elections became necessary.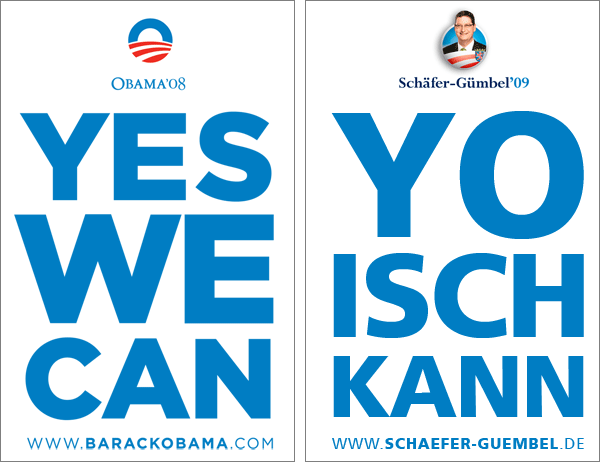 Mashup of Schaefer-Gümbel's campaign by PPP Read the rest of this entry »