7. December 2008 – 16:19 by Rolf Luehrs
The European Commission supports eParticpation with lots of different instruments and we are grateful that PEP-NET is among the funded projects. One of the main objectives of our network is, as you may know, to connect the scattered fragments of the eParticipation community or even to help establishing something worth to be called a community.
This is very easy said but much harder done as I experienced the other day. I discovered that the eParticipation scene is more fragmented and relevant information are far more distributed than I expected. And I have to admit that I lost my way in the Commission's eParticipation jungle.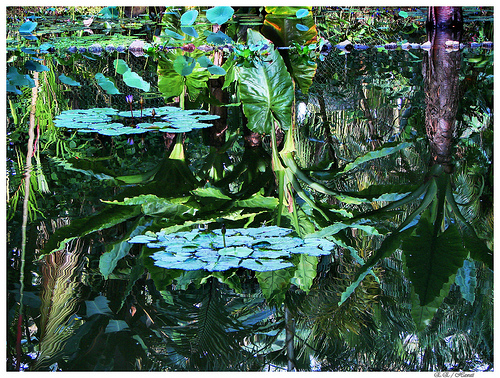 What has happened? Well, my trip started last week reading Simone's PEP-NET post about Debate Europe, a project which I stumbled upon a few times without paying to much attention to it. Although it is a great idea to provide discussion forums in all of the languages of the EU member states, I could not easily find the political and programmatic framework in which this project has been started. Thanks to  Simone's post I learned that "Debate Europe" is just "one part of the ambitious Plan D (D for Discussion, Debate and Democracy)".
Via Twitter, I became almost at the same time aware of another project funded by the EC called European Citizens Consultations (ECC 2009). This project sounded really interesting to me. Just as "Debate Europe" it provides forums in different languages on different topics, and has additionally a proposal and voting tool. Furthermore, the project aims to achieve concrete results which will be fed into "27 European Citizens' Consultations" (to be ) attended by a total of 1,500 randomly selected citizens reflecting their country's demographic composition." This project is definitely worth another blog post to appear soon.
However, looking for some background information at the website, I understood that "ECC 2009 is co-funded by the European Commission's "Debate Europe" programme.
Now I got confused: Wasn't "Debate Europe" the forum project introduced in Simone's article and the name of the programme "Plan D"?. Seeking for clarification I followed the link on the ECC website promising to provide more information. Unfortunately the respective site does not exist.
No problem, I thought, I will figure that out by visiting some of the different EU ePartcipation sites I have bookmarked. I started with the EU eParicipation Initiative website, which is considered with the eParicipation preparatory action. The third call of this has only recently been closed so there should be actual information on the Commissions' recent activities available. But, oops, the "address you used is incorrect or obsolete" I was told.
Ok, on with the journey, let's try some of the other resources. Next I visited the ePartcipation and eDemocracy community at  ePractice.eu portal. No mention of ECC 2009. Maybe something at the European eParticipation portal? No. At DEMO-net? Nothing.
I went back to ePractice.eu and searched for "Debate Europe". Finally I found a website about "2006 - 2007 Citizen's Projects - concluding Conference".  "The purpose of this event" I read "was to draw on the experience gained from the six "Plan D" pan-European citizen's projects co-funded by the European commission in 2006-7".
One of these projects is the European Citizen's Consultations; Debate Europe is not among them (although there is a link to the Debate Europe website). The project description is only concerned with past events, just as if the project has already been completed.
So what can we learn from this?
There is definitely a need for a network like PEP-NET trying to provide comprehensive information on eParticipation in Europe.
As PEP-NET we have still a long way to go to be recognised as network that must be informed about all Pan European eParticipation projects.
We should actively try to make our network better known among the different Units of the European Commission and prospective eParticpation projects.
Projects like ECC 2009 should be encouraged by the Commission to send project related information to at least one of the EC funded eParticpation networks or portals.
Consistency of EC eParticpation related websites could be improved.
Any other recommendations?
Tags: Debate Europe, eParticipation, European Commission, Plan D