| | |
| --- | --- |
| | 28. February 2010 – 22:29 by Asociacion Ciudades Kyosei / Pedro Prieto-Martin |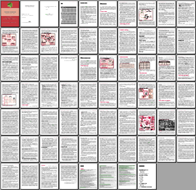 For those of you that read Spanish, the report that the Asociación Ciudades Kyosei just released (which can be downloaded from its website) could interest you much, as understanding "Citizen Participation" continues to be the basis to developing any "e-Participation" initiative.
The text "(e)Participación en el ámbito local. Caminando hacia una democracia colaborativa" deals with citizen participation as it was known during the XX Century.
It analyses its strengths, potential and problems from a critical, irreverent, but nevertheless thoughtful perspective. To illustrate the characteristics of citizen participation, the report provides a comprehensive and original analysis of Participatory Budgeting Experiences of the big brazilian cities (with special emphasis on Porto Alegre and Fortaleza).
Based on this understanding of traditional Citizen Participation, the upcoming chapters of the report will be able to reflect on the "Participation of the twenty-first century": our beloved "e-Participation".
This text was prizewinner in the last CLAD Congress (the most important Latin-American congress on State Reform and Public Administration Modernization), which took place in Salvador de Bahia (Brazil).
We really expect you will find this report refreshing, and actually hope it will foster interesting reflections from your side.
Tags: civic participation, inenglish, inspanish, participatory budgeting, report