| | |
| --- | --- |
| | 5. May 2009 – 10:33 by E-Voting.CC |
Finally our newest project has been released and delivered to our readers: The biannual free special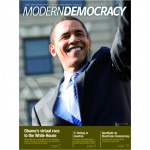 interest magazine "Modern Democracy" by E-Voting.CC.
As I have announced in an earlier entry we issued the first edition of our magazine dealing with selected topics in the field of E-Democracy and it's newest developments. The magazine is distributed all around the world.
Before I give you a quick overview of the contents, I want to thank all of you who have mailed us the registration coupons. The responses were overwhelmingly positive and gave us the affirmation that such a magazine is needed and wanted. Thank you for all the positive feedback!
The first article deals with the upcoming student union elections in Austria. This event will mark the entry of Austria into the list of countries with legally binding electronic elections. Students will be able to cast their vote via Internet from May 18th until May 22nd - one week before the paper election. The results will be counted after the last polling stations are closed.
The intention behind this project is to give every student an easy and uncomplicated way of participating in these biannual elections and to innovate the Austrian voting procedures.
The magazine also features an article dealing with a deeper insight into the results of the CAHDE working group of the Council of Europe. A roadmap shows the different stages of E-Democratic tools how they relate to each other.
My main contribution to the magazine was an email-interview with Matthew McGregor. He works for Blue State Digital, a full service agency that offers integrated campaign design. By the way: I met Matthew on Dan Jellinek's great e-Democracy08 conference in London, in November 2008.
In the interview we ponder about what new forms of online campaigning can do for democracy or about which lessons European politicians can learn from Obama's unprecedented Internet presence.
Other topics are conference reviews of 2008's most important E-Democracy events and a schedule for 2009, a book review and a market survey of companies who are specialized in E-Voting technology.
If you are interested in obtaining our magazine, which will be issued twice a year, just send us an email with you name & address to: modern-democracy@e-voting.cc
You can also download the latest issue from our website.
We'd be glad to send you your copy for free and without any obligations!
Daniel Botz, E-Voting.CC
Tags: e-Democracy, inenglish, magazine