10. July 2009 – 11:25 by Roberto Zarro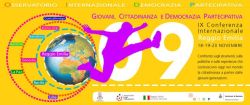 The Municipality of Reggio Emilia will hold, from the 18th till the 20th of November 2009, the 9th "Conferenza annuale dell'Osservatorio Internazionale di Democrazia Partecipativa (OIDP)" (Annual Conference of the International Observatory of Participative Democracy). The Conference will be dedicated this year to the topic "Young people, citizenship and participative democracy. Dialogue about policies and experiences who build citizenship starting from new generations".
OIDP is open to all cities of the world, public administrations, organizations and research centers who try to know, compare e realize participative democracy's experiences in local contexts.
The Conference will take place at the International Center for the Childhood "Loris Malaguzzi, in Reggio Emilia. It will be organized to analyze and foster the democratic participation of young people in local contexts. Another purpose is to innovate local governance's policies promoting a bigger participation of social categories less represented in politic and institutions.
Italian and international best practices concerning political participation of young people will be presented at the conference. Debates and discussions in program will be dedicated to: youth policies and local governance's systems; pedagocical methods and places for educational experiences; social policies and participation's places for new generations.
More info (in italian) on: www.oidp.comune.re.it
Tags: emilia romagna, italia, young, youth participation