9. April 2008 – 11:00 by Civil College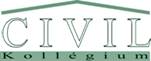 The Civil College Foundation (CCF) is a nationwide adult education organization which organizes practical training for citizens willing to act, the members of self-organizing communities, and the participants of community work and community development vocational training programmes.
The Civil College Foundation was founded in 1994 as a result of the joint recognition of an increasing demand for training in community development. The Civil College Foundation is a social, public benefit organization. In 2003 CCF became an accredited adult education institution, under registration number 07-0218-02 of the National Public Education Evaluation and Examination Centre (OKÉV), its institution accreditation is number 0317.
The foundation has purchased a derelict and ruined former elementary school building in Kunszentmiklós-Kunbábony. Having raised 40,000,000 HUF, it renovated the building and converted it into a modern training centre offering residential training facility for 24 + 8 people since 1997. The Civil College Foundation also organizes courses in other parts of the country, adjusting to local needs. At the same time, the community centre hosts events of local public life.
The activity of the organisation: Our trainings have two main groups.
The participants of the "civil trainings" are civil and community activists, who, with the help of the syllabus developed by the CCF trainers and through participation-based adult education methodology, learn how to think from their community's point of view, learn civil action techniques, etc. These trainings are as follows: community, civil, democracy, community economics development and community media, democracy and Europe training;
The community development and community worker vocational trainings have two areas: the first is the organisation of community development and community worker practice modules for higher education institutions; the other is the medium-level vocational training of those local activists who are at a disadvantage in the labour market. Most of the trainings are 24 hour weekend trainings; the field practices usually last 5 days, the professional trainings 60-120 hours. The number of participants in the trainings is 14-32. Every year 700-800 people join CCF trainings.
The CCF also takes part in professional development projects in community development and in experimental adult education programmes. It has a wide-ranging international network, organises several major national and international events (conferences, seminars, community action programmes, inter-professional programmes) and is involved in the activities of several working groups in order to represent the case of citizen and community participation in the decision-making processes.
INSERT_MAP