23. April 2008 – 11:48 by POLITECH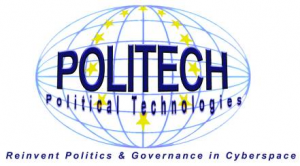 POLITECH INSTITUTE is a not-for-profit international association (AISBL) and a European Center of Political Technologies located in Brussels, Capital of Europe, dedicated to promote novel concepts and innovation empowering the different stakeholders in a 'citizen-driven' digital world, as well as support the development of effective strategies, policies and share of best practices in the converging domains of Political Technologies for a better use of Information and Communication Technologies (ICT) towards the advancement of modern public governance and democracy.
POLITECH INSTITUTE offers its members a European and International platform of network, exchange, consultation, information, debate, training, and a European home to research and development initiatives to generate innovation and share best practices.
POLITECH INSTITUTE delivers powerful and expert services to empower, train, educate, activate and mobilize public, academic, civil and private stakeholders and end-users to meet successfully the challenges of modern politics and public governance in Cyberspace.
INITIATIVES & PROJECTS:
POLITECH INSTITUTE organises and participates in international events and workshops dedicated specifically to the implementation of ICT in the EU, such as the "Worldwide Forum on e-Democracy", Issy-les-Moulineaux (France), the annual "Global Forum, Shaping the Future".
POLITECH INSTITUTE, in the framework of the first International Executive Master in e-Governance, launched by the Swiss Federal Institute of Technology Lausanne (EPFL) in 2004 and in partnership with University of St. Gallen (Switzerland), Monterrey Tech (Mexico) and the University of Tampere (Finland), organized, in January 2005, a week of seminars and debates dedicated to the European dimension of e-Governance.
POLITECH INSTITUTE publishes the European Review of Political Technologies (ERPT), a unique pan-European online periodical bridging the domains of Political Technologies.
POLITECH INSTITUTE publishes The European eDemocracy Award Report, in partnership with IP LABEL for The Annual European eDemocracy Award, in the framework of The Worldwide Forum on eDemocracy.
For more Information please visit: https://www.politech-institute.org/
INSERT_MAP