7. July 2008 – 10:09 by Renate Mitterhuber
That was the title of a workshop at a major Germany-wide conference in Leipzig with almost 1000 participants from public administrations. Topics during the two-day conference centred on the theme of eGovernment. Among the subjects discussed were trends and strategies of eGovernment in the future, acceptance (or otherwise) by users, and ways of improving the current situation in Germany.
I have been involved in the Hamburg administration for the past seven years with the issues of eGovernment and eParticipation and since October 2005 have been in charge of the department responsible for the strategic long-term establishment of these topics in the Hamburg administration as a whole. So it was with happy anticipation that I made my way – slightly late – to the upstairs room in the spanking new futuristic building on the outskirts of Leipzig to improve my blogging skills.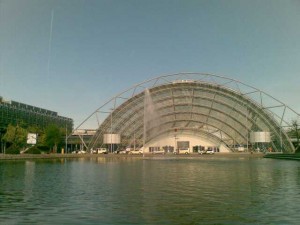 The first surprise was that there were only five members of public administrations sitting in front of their PCs and busily practising constructing blogs and using administrative tools to put them into practical use. Two participants were from the same organisation, and one had to leave early because his boss called him away. That left just four administrations at this conference that had expressed any interest in using this no longer terribly new method of interaction.
The lecturer took a lot of trouble to explain to us the opportunities and risk of blogs and showed us successful examples (e.g. the blog by a young mayor of a smallish local authority). At the end of the workshop it felt good to know a little more about the subject, but I had great doubts that the world of Web 2.0 would ever make it into the realm of public administration or, if it does, when. Will the outside world be technological leagues further by the time we have learned to write blog articles?
The theme of eParticipation arose at other points in the conference, too. In one session, I reported on Hamburg's experiences with online debates and the Federal Government's study on the status quo of eParticipation in Germany was presented. At least that session attracted about 25 listeners whose questions showed their interest. In other presentations, scientists and advisors attempted to make it clear to the representatives of public administrations that opportunities for dialogue with members of the public represent important success factors in future eGovernment. But in my experience of such conferences, the questions afterwards almost always focus exclusively on IT aspects: new software, standards, security, etc. In short: overcoming day-to-day problems is clearly to the fore. The resources for overcoming the future are usually lacking.
I am always happy to discover "Web 2.0", "eDemocracy" or "participation" on the agenda of a German eGovernment conference, even if they are usually to be found on the fringes and seem like exotic curiosities among the "hard" topics. Given the challenges of applying IT to making public administrations fit for the future, I know how hard it is to find time for "soft" topics like public participation on the Internet. IT and organisation experts and lawyers can get really steamed up about technical, organisational and legal problems with implementing eGovernment projects – and with good reason, incidentally.
The subject of eParticipation must be firmly anchored in the political sphere, because in essence it is about creating a modern, more efficient and more sustainable kind of politics and using the Internet much more in future as a channel. Hamburg has the advantages of having IT and eGovernment under one roof and good lines of communication with the policy makers. I hope that PEP-NET will, among other things, enable me to share my experience with other administrations in Europe and gain some momentum for Hamburg. Perhaps other administrations, or those who work with them, can tell me what they think here and now? I would be glad if you did. Whatever the case, I will certainly stick with the subject.
Tags: blog, eGovernment, NeueVerwaltung, Public Administration