8. October 2008 – 17:38 by Rolf Luehrs
Round table discussion about Participatory Budgeting and ICT at the 9th World e-Democracy Forum in Paris,  October 16, 9.00 - 10:30
Participatory budgeting is a method to involve ordinary citizens in the decision-making process of allocating municipal or public budgets. Proponents of this method suggest that this involvement leads to more sustainable and equitable public spending, increased governmental transparency and accountability and creates stronger links between citizens and (local) government.
While participatory budgeting is already quite established in different municipalities in South America and especially in Brazil, more and more European governments are currently experimenting with this participatory instrument. In some cases, like e.g. the cities of Hamburg and Freiburg (Germany) or the city of Belo Horizonte (Brazil), participatory budgeting has been supported by ICT and web based systems.
The round table discussion will focus on questions whether the Internet is likely to increase the quality and the acceptance of participatory budgeting and what are the specific strengths and weaknesses of eParticipation solutions in this domain.
Input statements from:
Rüdi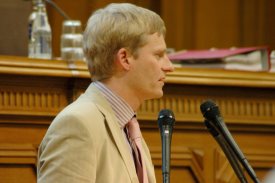 ger Kruse
Member of the Hamburg state and municipal Parliament. Speaker for finance and sustainability of the Christian Democrats. Rüdiger Kruse was one the driving forces of the e-Participatory Budgeting project in the City of Hamburg, 2006.
Ruth J

ackson
Research and Information Officer for the Participatory Budgeting Unit (PBU), a project of the charity Church Action on Poverty. The Unit's remit is to support and encourage the uptake and development of participatory budgeting (PB) in the UK.
Tiag

o Peixoto
PhD researcher at the European University Institute (EUI - Italy), and associate researcher at the Electronic Democracy Centre (Switzerland), a joint venture of Zurich University, the EUI and the Oxford Internet Institute (UK). Tiago Peixoto has recently conducted research into the use of ICTs in Participatory Budgeting and, particularly into one of the most significant e-Participatory Budgeting projects which has been realised in Belo Horizonte, Brazil, in 2006.