24. February 2009 – 11:28 by CTI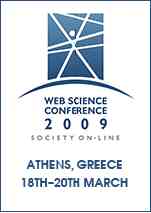 Web science is emerging as a standalone, interdisciplinary field encompassing all different aspects related to the web, both social and technical.
Web Science Conference 2009 (https://www.websci09.org/), is the 1st international conference on Web Science and is dedicated to the presentation of research into society on the Web.
WebSci'09 will be held on March 18-20, 2009, in Athens, Greece.
During the WWW Forum, which is the opening event of the conference, Tim Berners-Lee, inventor of the Web and top agenda setter will discuss with the public and famous scientists and politicians the following themes:
Web Science and Research

Web Technology and Practice

Web for Society
Tags: web science