18. May 2009 – 16:17 by E-Voting.CC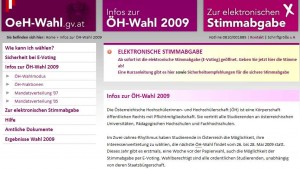 Today at 08:00 am the first legally binding electronic election in Austrian history went online! The Austrian Federal Student Union is being elected starting today morning and running until Friday via a remote electronic channel. Next week from Tuesday the 26th until Thursday the 28th of May an ordinary, paper based voting channel will be opened to ensure.
The paper and the electronic votes will be counted on the 28th and hence the result should be available  around Thursday evening.
The voting system was programmed by the Spanish E-Voting specialist Scytl and is hosted at the Austrian Federal Computation Center. The Austrian Ministry of Science and Research is the initiator, Robert Krimmer from E-Voting.CC is consulting the implementation process.
The going online of the voting system this morning went as planned. A minor problem although occurred with the Intranet connection at the BRZ but this was quickly solved and did in no way affect the voting system itself.
We are glad and also a bit proud, that this project is now successfully in the "delivery phase", we hope everything will keep running smoothly!
Daniel Botz, E-Voting.CC
Tags: e-voting, election, electronic voting, student, system