17. June 2009 – 15:07 by Bengt Feil
On Tuesday (16.06.2009) the second participatory budgeting project has been launched in the city of Hamburg (1.8 million inhabitants).
It can be found here: www.buergerhaushalt-hamburg.de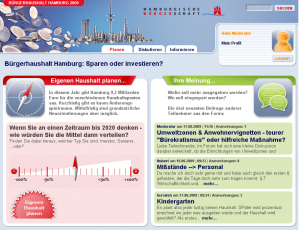 The overall theme of the participation effort is to get citizens involved in the long term planning of the cities budget: How should money be spend in future years? Which city services are important and how can they be organized in a more efficient way?
The platform incorporates a budget planer, discussion forums and other means of participation to cover both the general and specific questions related to the cities budget. Furthermore politicians and budget experts are also involved in process and the discussion.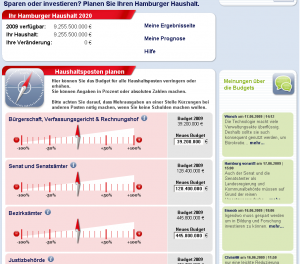 From June 16th till July 10th the citizens of Hamburg will be able to give their ideas and opinions about the future development of the budget.
Tags: 2009, Hamburg, participatory budgeting