7. August 2009 – 08:38 by Fraser Henderson - ICELE
Google have taken a more aggressive stance in targeting the public sector with the launch of Google LocalGov here in the UK. While the offering is not particularly different from what anybody else can get, it certainly deserves some attention in terms of relevance. The pitch goes something like:
• Direct users to your site (enable people to find you better, position your authority as the no.1 destination)
• Manage your costs by making your website work harder (drive more traffic through the online channel to reduce print/call centre costs)
• "Monetise" (raise revenue from what you're doing)
• Justify what you've done. Now more than ever data beats opinion (test, measure, optimize)
For example, Nottingham City Council has been using context sensitive ads on their site for about a year now and it returns a healthy return of around €13,500 per year in click-through revenue. In that time there have only ever been three complaints from the public and one of these related to the 'type' of advertisement displayed – easily rectified by the council. Arguably context sensitive advertisements on public sector pages can actually help citizens find services. So why don't all councils do this? They also use Google Maps and Google Mini.
On the return path, the London Borough of Hillingdon (among others) pays for 'Adwords' on the Google search engine. They were able to target an audience within a 15 mile radius (estimated targeting accuracy 80 – 85%) to their annual Christmas market, achieving half a million impressions and a 1% click through rate. The cost per click (CPC) is a bit of a secret but reading between the lines my estimate is about 10p.
Click here to see the Goole top 10 tips for making websites work. Public authorities should also get wise to how Google indexes them. Done correctly and you get much better results:-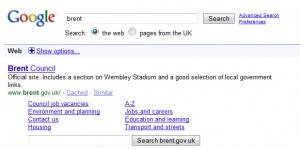 Then there's Google Enterprise – which effectively replaces IT departments. Google estimate the cost of their cloud computing solution as £33 per user per year – and that the it costs the average IT department £200 per user per year just for email. Bear in mind Google gives you 25GB per user storage space!
OpenSocial, FriendConnet, Google Health, Google Optimiser, Google Analytics, Google Voice, Android, iGoogle…..do we need third party eParticipation software any more? There is certainly no excuse for avoiding OpenID or using insight to refine web design and 'convert' lurkers to participants.
Tags: Google