13. August 2009 – 08:41 by ZEG
The annual Conference on eDemocracy will take place at the Vienna University of Economics and Business on September 7 and 8.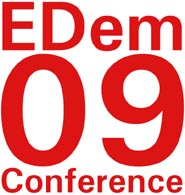 The upcoming conference gives experts and the interested public the opportunity to exchange ideas and opinions about the influence of the web 2.0 on our democracies. There are a number of eDemocracy applications, ranging from transparency and information sites, discussion panels, deliberation and consultation platforms to decision-making and voting systems, thus encompassing the entire democratic process.
Costs:
EUR 95,- for authors
EUR 115,- early-bird-rate for PEP-Net members
EUR 135,- for participants who register after July 17, 2009
Instructions:
In order to profit from your PEP-Net membership, please note your PEP-Net member status when registering. If you have any questions, please contact julia.landgraf@wu.ac.at .
We are looking forward to seeing you soon in Vienna …
Further Information: