| | |
| --- | --- |
| | 15. October 2009 – 11:38 by Bengt Feil |
Climate change is one of the biggest scientific, political and social problems of the 21st century. All nations of the world are challenge by the threads and to a lesser degree opportunities climate change brings with it. Consequently this topic is discussed among world leader in forums like the United Nations Climate Conference later this year. But all these efforts to mitigate the change of climate, even if there was agreement among countries on the necessity to mitigate it, will not stop the impacts of the change immediately. Therefore there is a need to look for ways to adapt to climate change and to protect humans and the environment from its negative effects.
The German ministr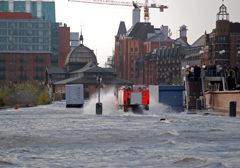 y for education and research has set up a series of large scale projects to research the possibilities of different urban and rural areas to adapt to climate change in the next 50-100 years. The Klimzug-Nord project will undertake this effort for the metropolitan region of Hamburg, which is influenced both by the nearby North Sea and the river Elbe. The project duration is 5 years, has an overall volume of 25 million Euro and it incorporates dozens of Universities, research centres, governmental bodies and companies. This region has 4.3 million inhabitants which will be affected by the changing climate. As the adaptation to climate change does mean major decisions in urban development and other political areas there is a need to get the cities involved in this process. This is where eParticipation meets climate adaptation.
The Klimzug project does include a governance strategy which makes use of eParticipation and other participatory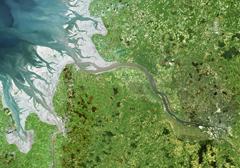 approaches. The use of eParticipation in this context has two major goals: Firstly to get citizens actively involved in the development of adaptation strategies and secondly to test how participatory tools and processes have to be designed in a context that covers a highly complex topic which stretches an extremely long time period. The DEMOS eParticipation approach developed by TuTech will be used in Klimzug-Nord to discuss possible projects, activities and policies to adapt to climate change as well as to gather the ideas and views of the people living in the region on how to best adapt and which priorities to be set. The different issues to be addressed by eParticipation in this project range from "how to organize water irrigation in agriculture" to "how to prevent major floods in the densely populated city area of Hamburg".
It will be interesting to see how eParticipation can help to open up a research project to the general public especially with such a complex topic at hand. We will report back on the problems and successes we encounter as we go along in this interesting and challenging project.
Tags: Climate adaptation, climate change, germany, inenglish