| | |
| --- | --- |
| | 9. July 2010 – 14:39 by POLITECH |
eMPOWER participated in the workshop organized by MOMENTUM (a Support Action to the eParticipation Project co-funded by the European Commission) on 6 May 2010 titled 'EU eParticipation Prepatory Action: Results & Future Directions' during eDEM10 (4th International Conference on eDemocracy) in Krems, Austria.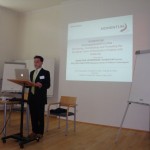 MOMENTUM workshop presented the results of the eParticipation Preparatory Action through a sample of its projects: eMPOWER and WAVE presented by Ms. Olga LACIGOVA (Project Coordinator, 21c Consultancy), HuWY represented by Dr. Ralf LINDNER (Senior Researcher, Fraunhofer Institute for Systems and Innovation Research- ISI, Karlsruhe Germany) and VIDI represented by Mr. Sinan SEN (Research Scientist, Research Center for Information Technology). In addition, Mr. Peter REICHSTAEDTER represented the Federal Chancellery of the Austrian Republic for the Austrian ICT-Strategy. Mr. Daniel VAN LERGBERGHE (President & Executive Director, POLITECH INSTITUTE) led the workshop panel discussion.
Ms. Olga LACIGOVA highlighted eMPOWER's aims which are to "motivate and strengthen the involvement of NGOs and citizens in the decision-making process on environmental issues at a National and European" level by providing method and tools for supporting citizens' participation and collection of signatures to promote relevant public initiatives and demands of civil society.
Visit eMPOWER Project: www.ep-empower.eu
Tags: inenglish