| | |
| --- | --- |
| | 28. September 2010 – 16:57 by John Heaven (TuTech Innovation GmbH) |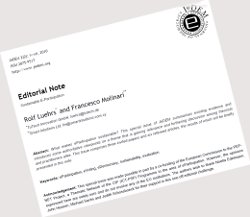 The PEP-NET Special Issue of eJournal of eDemocracy (JeDEM), which Francesco Molinari and Rolf Lührs guest edited, is now available at www.jedem.org. It addresses the topic "sustainable eParticipation", asking what 'sustainable' means in this context and turning to experts in the field for advice on ensuring European eParticipation projects overcome problems with low participation rates and impact.
The Special Issue contains a total of nine papers, three of which are invited papers from prominent eParticipation actors. The remaining six are scientific research papers and case studies.
The authors are successful in shedding new light on eParticipation, with a wealth of hints and tips on how to make eParticipation sustainable. Here is a list of concrete prerequisites for sustainable eParticipation gathered from the various papers as part of the editorial:
-         A favourable policy and legislative framework (Chrissafis and Rohen, Hinsberg);
-         Official recognition from the public decision-makers (Badouard);
-         Efficient (Velikanov) and transparent (Johnston) procedures for the aggregation and visualisation of user preferences;
-         Trust building on the whole process (Rodrigues Filho);
-         A suitable ICT infrastructure (Hinsberg, Hermida) posing weak constraints on users' behaviour (Badouard) and making the most out of the inputs (Li);
-         A community of active (Hinsberg) and skilled (Maier-Rabler and Huber) citizens;
-         A participatory culture among the population (Li, Maier-Rabler and Huber).
Of course it is not possible to distil the whole journal into a single blog post - you will simply have to read the journal to benefit from the wealth of knowledge and experience that it reflects by visting https://www.jedem.org/.
The journal was ready in time for last week's PEP-NET Summit, at which the issue of sustainability was also raised. Like the Summit, the JeDEM Special Issue benefited from PEP-NET's unique network of eParticipation actors across Europe and will help to ensure that there is ongoing reflection on how eParticipation can make a positive, long-term contribution to our democratic culture. JeDEM is published twice per year since first being published in 2009. The Centre for E-Government at the Danube University in Krems, Austria, manages the publication process which involves a team of 35 editors.
Tags: Academic, eDemocracy, eParticipation, inenglish, JeDEM, scientists