| | |
| --- | --- |
| | 13. October 2010 – 14:08 by Bengt Feil (TuTech Innovation GmbH) |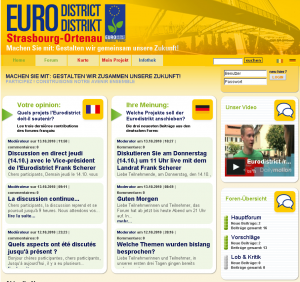 The tower of the Muenster in Strasbourg offers visitors a great view on the Eurodistrict, an area of intense cross-border collaboration between Germany and France. This region offers many advantages to its inhabitants but also brings with it its own challenges. Topics like the the bi-linguality, public transport and education are discussed on both sides of the border. Based on these possibilities and challenges the Eurodistrict was founded in 2005.
Since October 9th 2010 inhabitants of the region can discuss in an online-discourse how the future collaboration between the French and the German citizens should look like. Roland Ries, the president of the Eurodistrict organisation states that the online-discourse should "Improve everyday live and develop new forms of collaboration and political organisation".
The online-discourse (mein.eurodistrikt.eu) was launched parallel to the kick-off event and will collect the views, ideas and statements by citizens in the region to achieve this goal. The discourse also includes live discussions with for example the German politician Frank Scherer (October 14th 11am) and others. These discussions, like the whole online-discourse, will be run both in German and French.
Tags: bi-lingual, Online Discourse, pan european, two languages