| | |
| --- | --- |
| | 21. March 2012 – 12:46 by cynthiawagner |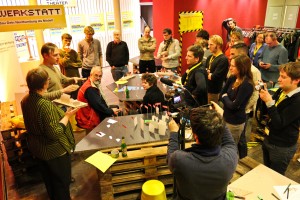 The growth of movements like the Right to the City Movement and protests like Stuttgart21, Gängeviertel, or NO BNQ show the continuously increasing demand for more public participation in urban development. The pilot project Nexthamburg experiments with new ways of public participation in the urban development of Hamburg. The concept of the open and independent crowd-sourcing project will be presented at the PEP-NET Summit on 14th May.
Nexthamburg gathers solutions and challenges for the city of Hamburg in crowd-
sourcing processes. Citizens can post their own solutions for the big challenges on the webpage or other Nexthamburg social media channels, discuss, comment or follow others, create their own vision for Hamburg. They can also participate in one of the Nexthamburg events, for example Nexthamburg Sessions, Salon, Zukunftscafés, or the Zukunftscamp.
The long-term goal of the project is to organize a crowd-funding channel for promising ideas for Hamburg's urban development to finance feasibility studies and realization efforts.
Nexthamburg is active since April 2009 and has been promoted as a pilot project of national politics of urban development by the federal ministry for traffic, building, and urban development until 2011. It is supposed to become a non-profit association in 2012.
Nexthamburg on nexthamburg.de, facebook, twitter, google, flickr, youtube, issuu
Tags: eParticipation, Facebook, German, germany, good practice, Hamburg