| | |
| --- | --- |
| | 6. August 2009 – 08:36 by E-Voting.CC |
Our Conference Proceedings of the 3rd International Conference on Electronic Voting, which was held from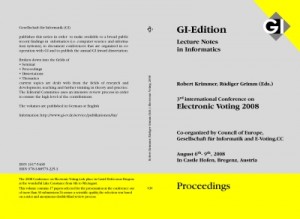 7th to 9th of August 2008 in Castle Hofen, are now online. Exactly one year after the opening session we are glad to publish them on the web. You can download the PDF here.
This year's proceedings contain the seventeen papers selected for the presentation at the conference out of more than forty submissions. To assure scientific quality, the selection was based on a strict and anonymous review process. The papers cover the following subjects: e-voting experiences, social, legal, political, democratic and security issues of e-voting, as well as solutions on how to (re)design election workflows, and finally how to implement and observe electronic voting systems.
You can order the proceedings in print for EUR 19,70 (+shipping & handling) by sending an e-mail to office@e-voting.cc.
For citation and download purposes please use:
Krimmer, R., Grimm, R. (Eds.): Electronic Voting 2008, GI Lecture Notes in Informatics, P-131, Bonn, 2008.
Daniel Botz, E-Voting.CC
Tags: conference, download, evote2008, eVoting, inenglish, pdf, proceedings